Here is a way you can almost never mess up,
Download GIMP 2.6, take a screenshot of your Fantage person, and save it.
Then open up GIMP and go up to the left upper corner, and click on file.
There well be a drop down box, and a button called "Open".
Click it, DO NOT DO "Open Layers",
Then a box will appear that has a lot of words and such.
Go to the left, click your username for your computer, then pictures, then look for your screen shot you took.
They will not have the actually photos, only the names. Once you find yours click it.
Then I dunno if you already have "Tool Box - Tool Options" (It will say it on top of a box)
But if you don't go up of the screen, click ""Windows" then "Recently Closed Docks" in the drop box.
Then another drop box will appear and click "Tool Box - Tool Options"
That will also help later on, because they will never appear right away after your first time using GIMP.
Now click these things on your comp. the same order.
Shift, Control, J
That will make your screen fitted on your re color you will do.
Now you will re color.
Okie, first look at your tool box, on the top will be a block type thing with three diff. colors and a hand pointing to it.
That is the "Select by Color tool", it also says the name when you put your mouse over it.
Click it then click say, your Fantage person's hair. You can now see that are different shades of hair, because you are zoomed so far in, click one of the shades.
Now go down to the pencil shaped tool. Click it.
Then you will see a bar that says "Opacity" drag it around to about the middle.
(Half blue half white)
Then go down to a box with another box below it, (Still in the pencil tool)
Chose your color.
Now if the shade you picked for the hair is somewhere else on the body, you might want to make the size smaller with the size bar,
Then Hold your left button on your mouse and scribble it on the part where there are little dash marks around it (The part you selected with the "Select by Color Tool")
If you don't like the color you got with it, hit undo (or Ctrl Z),
and play around with the "Opacity" bar.
Keep on doing that for everything you want t recolor.
Then to save it click the little tool in your tool box that looks like a wand.
Double click out side of your box were you re colored.
Then go all the way back up to the main tool bar thing.
Click "Edit", then "Copy Visible".
Open up any sort of Microsoft paint, click paste, then whala!
Save it on your Microsoft paint and your are done!
~The reason why you have to save it on some sort of paint, is because GIMP does not save on png.~
There you go!
~Example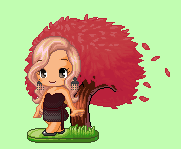 I know this was long but GIMP can be confusion.