Hey, guys. I'm willing to take requests and recolor your Fantage character, if you think it's too hard. I will do it!
I may send it to you within a week, just because I have school, and a life otherwise. But I have tons of time on the weekend.
So, please just list what you want me to do with your avatar; using this guide would be nice.
Hair Color:
Hair Highlights:
Top Color:
Bottom Color:
(Outfit Color):
Footwear Color:
Board Color:
Eye Color:
Facial Expression: (smiling, winking, surprised, shocked, in love, dazzled, sad)
If you want me to write something on the shirt or something, you can ask for that.
Here are some examples of what I've done...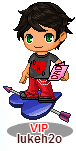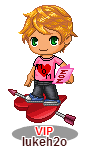 In order, they are: Earth Day; Father's Day; Mother's Day; and Saint Patrick's Day.